Eid, Christmas and Hanoeka are coming close…
Are you all set? … I am not: the house is a mess, haven't had one minut yet to think of my christmas dinner, still got to get the christmas tree, the presents… and my family will be at the door two days from now for a whole week of festivities! Sounds desperate… Well, nevermind! I've decided to (try to) keep cool this year. *deep breath*.  
In case some of you out there can recognise themselves, I thought I could share my christmas race with you (If I manage to fit posting in the program). 
First, I've got one tip for your christmas presents: Have you heard of the Menu for Hope raffle yet? If not, have a look… you've got until tonight to get a chance of winning amazing food related prizes worldwide (meals in world famous restaurants, culinary tours of your favourite cities, cooking equipment, signed cookbooks, cooking workshops…) while helping children in Lesotho getting food for lunch! Don't miss it… I got tickets for the guided tour of El Bulli of course, a culinary tour of Barcelona and a lovely vintage print.
For the rest, my moto this year is: get organised and go simple!
(I know that my friends will no doubt get tears of laughter reading this…)
So in that spirit, here are a couple of tips for great homemade appetizers that will impress your guests while being so simple and easy to prepare…

Asparagus mousse, cheese sablés* and candied tomato tartlets
Mousse or soup shots always make a great impression, while they can be pretty easy and prepared in advance. The asparagus and vanilla mousse on the picture is based on the recipe I cooked for Blog Appétit quite a while ago. This time I used canned asparagus, and I baked the mousse in shot glasses for 20min. They can be prepared a couple of days in advance and kept in the refrigerator. For the decoration, I used green aspasragus tips blanched for a couple of minnutes an strips of smoked salmon. For Christmas, I am thinking of trying this with artichoke hearts instead of asparagus, with seared slices of scallops on top maybe.

You can also think of shots with a celeriac or pumpkin cappuccino or creamy jerusalem artichokes soup topped wth scallops or langoustines.
For the celeriac, cook in half water, half milk until soft (~15min) and mix. For jerusalem artichokes, sauteed them with a small shallot before adding the liquids, spice to your taste. You can prepare and freeze these soups well in advance. Take out of the freezer the night before. On the day itself, mix with liquid cream and warm up before serving. Top with whipped cream, seared scallops, truffles, langoustines, crushed hazelnuts, nutmeg, sechuan pepper… whatever fit your mood that day.

And what about homemade mini savoury tartlets? sounds to complicated…
The trick is to prepare a savoury shortcrust well in advance (70g flour, 30g powdered almonds, 60g butter, 1 Tsp milk, salt, pepper and any spices or herbs you fill like). Bake in mini silicon molds and freeze the tartlet bottoms. You'll only need to take them out of the freezer a couple of hours in advance, garnish when thawed and warm up in the oven.
I like to garnish them with homemade candied tomatoes, or spicy apple compote topped with 'magret de canard' (smoked duck breast), sauteed spinach and goat cheese or smoked trout… but really the possibilities are endless!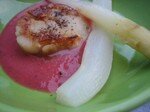 And then, there's the scallops… I love scallops, just seared served with a drop of argan or hazelnut oil, spiced with sechuan pepper, or with a strawberry coulis. Or mini blinis or baghrir (prepared in advanced and frozen), just warmed up, topped with creme fraiche with a touch of lemon or wasabi and garnished with salmon or fish eggs.
I could go on for hours, but I've got to seriously get started, so I'll finish with dried fruits… Prunes rolled in bacon and baked until crispy in the oven, dates filled with foie gras topped with sea salt and pepper. So easy!
Bon appétit and merry christmas!
*I'll post the recipe later, I've got to run to the market…