Today is the latest "Blog appetit" contest in the french culinary blogweb. This edition's ingredients will probably seem less startling than the strawberries and asperges from the last edition (I had a lot of fun with them though), but they are worth a detour: Our stars of this month are sardines and tomatoes. I hope you will excuse me if the rest of this post is in french. I promise the translation will follow soon.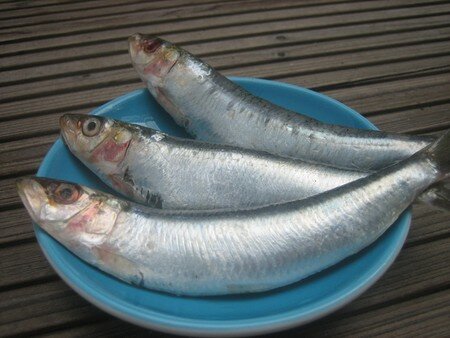 Lors de la derniere edition de Blog apetit, je me suis drolement amusee a concocter ma recette et je me suis promise de recommencer. Cependant, lorsque les ingredients de cette edition ont ete publies, j'ai d'abord penser a faire l'impasse… J'etais en pleine flemingite aigue apres un mois de travaux intenses a la maison. De plus, je n'avais jamais prepare de sardines fraiches et malgre mon amour du poisson, l'idee du nettoyage et de l'odeur de ces petites sirenes argentees ne m'ont guere enchantees… Et puis finalement, samedi dernier je me suis decidee d'un coup en faisant le marche: sur les etals, des petites sardines fraiches (J'ai fait du charme a tous les poissoniers du marche… mais j'ai finalement du les nettoyer moi meme. A ces hollandais!), des mini tomates roma bien rouges et parfumees. Pour ce qui est de la recette, j'ai improvise sur place, tout en arpentant les allees du marche:
Les sardines fraiches me rappellent le Maroc: Les sardines fraichement pechees degustees grillees sur le petit port d'Essaouira, ou marinees a la  chermoula (comme chez Requia) puis frites degustees chez une tante avec toute une flopee de cousins entre deux eclats de rire, ou crues, justes marinees preparees par ma maman et degustees sur la terasse avec un petit verre de rose. J'ai voulu reproduire ces saveurs dans ma recette et mettre les sardines en valeur, sans trop de fioritures.  Pour les tomates, ca faisait longtemps que j'avais envie de tenter de confire des tomates, l'association m'a tout de suite titille l'esprit et ma recette etait nee: Pour ce qui est de la touche "sardines grillees sur le port d'Essaouira", j'ai decide de faire griller mes petites sardines tres brievement apres les avoir fait mariner dans une sorte de Chermoula simplifiee. Puis de les deposer sur un lit de tomates confites, le tout dans une petite fleur en feuilles de brick pour le cote croustillant….
Un samedi apres midi dans ma cuisine plus tard, voila le resultat: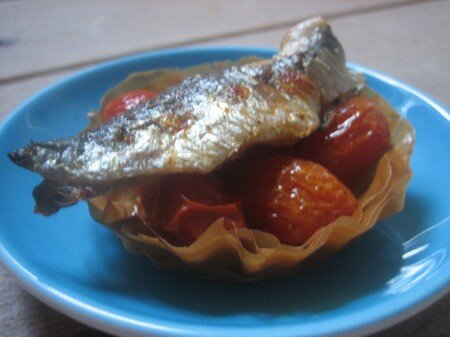 J'etais invitee a une soiree le soir meme, mes tartelettes n'y ont pas fait long feu…
Tartelettes croustillantes aux sardines fraiches et tomates confites 
(Cracky tartlets with moroccan style sardines and candied tomatoes)
pour 12 tartelettes.
pour les tomates confites:
prep. 5min. cuisson 1h35.

500g  de mini tomates roma bien charnues (des tomates cerises c'est bien aussi)
1/2 cc de paprika
1 Cs de sucre roux
2 Cs d'huile d'olive
fleur de sel, poivre du moulin
Prechauffer le four a 150 deg. Lavez les tomates et faite une incision a la base de chaque tomate. Disposez les dans un large plat a four anti-adhesif. Rajouter 1Cs d'huile, secouer legerement pour huiler les tomates. Enfournez pour 20min. En dehors du four, rajouter le paprika, le sel, le poivre, la moitie du sucre et le reste de l'huile d'olive. Secouer a nouveau le plat pour bien repartir l'huile et les epices sur les tomates. saupoudrer du reste de sucre et oubliez au four.  Au bout d'une heure, retourner les tomates delicatement une a une et remettre au four pour 15 min.  A la sortie du four, laisser refroidir dans le plat a temperature ambiante.

pour les sardines:
prep. 5min (+ 30 min  pour le nettoyage) cuisson. 6 min
500g de petites sardines bien fraiches (~ 15 pieces)
1 cc de paprika
1 petit piment fort,
4 ou 5 graines de cumin,
4 ou 5 grains de poivre,
1 petite poignee de coriandre fraiche
1 trait de jus de citron
5 Cs d'huile d'olive
fleur de sel

Pendant que vos tomates ce dorent la pilule, vous avez tout le temps de vous occuper de la cure thermale de vos princesses argentees… laver ces demoiselles a grande eau en les brossant avec les mains, des pieds a la tete pour eliminer les ecailles. Retirer la nageoire dorsale d'un coup sec. Inciser les au niveau du ventre, dans toute la longueur et vider les. Enfin, couper la tete, enlever l'arete centrale et ouvrez les comme des papillons. Sechez  vos papillons  d'argent du papier alu et disposez les dans un tupperware. Vous avez fait le plus dur!

Dans un mortier, pilez toutes les epices, le sel et le poivre. Melangez les dans un petit bol avec le jus de citron, l'huile d'olive, la coriandre fraiche hachee et la demi gousse d'ail pressee. Verser le melange sur les sardines. Melangez et laisser mariner pendant au moins 30 min.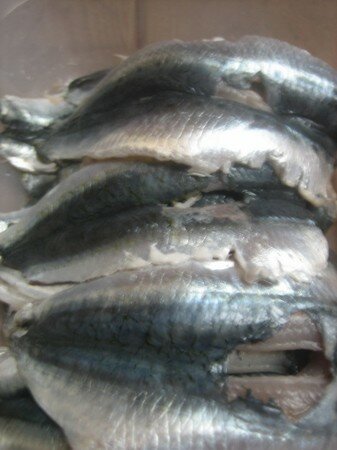 pour les fonds de tartelettes qui croustillent:
prep. 10 min. cuisson. 5 a 10 min

6 grandes feuilles de brick (ou 12 petites)… histoire de faire 12 x 6 ronds
20 g de beurre
1 Cs d'huile d'olive
moules a tartelettes (J'ai utilise une plaque de 6 empreintes en silicone)

Une fois vos tomates confites, prechauffez le four a 200 deg. Decoupez 12 x 6 rondelles de feuille de brick a l'aide d'un emporte piece legerement plus large que vos moules a tartelettes. Faites fondre le beurre et y rajouter l'huile d'olive. A l'aide d'un pinceau trempe dans le melange, beurrer tous les ronds de pates, puis les empiler 6 par 6. Garnir les moules a tartelettes beurres de ces piles de feuilles de brick en froncant bien chaque moule. Haricots secs ou autres galets sont les bienvenus pour empecher les fonds de tartes de gonfer a la cuisson. Faire cuire en une a deux fournees de 5 min suivant le nombre de moules a votre disposition.  Surveiller bien la cuisson… 1 minute de trop et pfft vous aurez du charbon! Demouler et disposer sur un plat de service.

Dressage des tartelettes:
prechauffez le four au maximum, position grill. Disposer vos sardines recomposees (refermer les papillons!)  sur une grille allant au four. Les faire griller 3 a 4 minutes de chaque cote puis les mettre de cote. Pendant ce temps, couper vos tomates en 2 dans la longueur et garnir chaque fond de tartes de 4 a 6 demi tomates. Avec un pinceau, vous pouvez ajoutez un peu de leur jus de cuisson. Deposer une sardine grillee sur le dessus, et ainsi de suite… Saupoudrer l'ensemble des tartelettes avec un peu de paprika. Vous pouvez servir de suite voir quelques heures apres le dressage en les rechauffant legerement avant de servir. Vous pouvez aussi preparer tous les elements a l'avance et faire le dressage au dernier moment (faites griller les sardines au moment du dressage)
Blog appétit!
Allez, une petite derniere pour la route: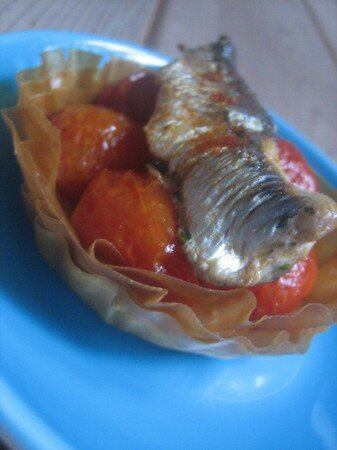 Ah et puis j'ai failli oublie, la suggestion vin de mon dutchie: un pouilly fume, ou pour les indecrotables du rouge un brouilly leger legerement frais!