I chose to blog in English… My mothertongue is French but not many of my dutch and international friends are able to understand it. I have now acquired a certain command of the spoken word in Dutch but my writing skills would have discouraged many readers…
Writing in English about food is not as easy as I first thought… words sometime come to me in French… or in Dutch [believe it or not, the first words I learned in dutch where about food… Oh, so many hours spent at my local supermarket reading stickers and figuring out what was what!].
Nevermind! My Dutch/English and French/English dictionaries have now found a convenient place next to my keyboard, and they don't have time to get dusty anymore.
This page will be an occasion for me to keep an eye on the various translations of ingredients and cooking techniques from French and Dutch to English. And who knows: you might find it useful yourself.
However, I'm afraid I will not be of much help myself when it comes to cooking conversions: pounds, pints and other cups are a mistery to me. Luckily, some others do understand it all. If you need help with my grams and liters, have a look at convert-me.com for quick online conversions
Oh! one more thing, I usually double check before inserting any term, but if you would happen to find a mistake, let me know…
Here it comes: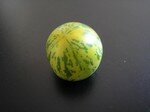 | | | |
| --- | --- | --- |
| Vegetables | Legumes | Groenten |
---
| | | |
| --- | --- | --- |
| Asparagus | Asperge | Asperge |
| Bell pepper | Poivron | Paprika |
| Celeriac/celery root | Celeri rave | Knolselderij |
| Celery stalks | Celeri branche | Bleekselderij |
| Chickpea | Pois-chiche | Kikkererwten |
| Fennel | Fenouil | Venkel |
| Garlic | Ail | Knoflook |
| Jerusalem artichokes | Topinambours | Aardperen |
| Mushroom | Champignon | Paddestoelen |
| Onion | Oignon | Ui |
| Parsnip | Panais | Pastinak |
| Peas | Pois | Erwten |
| Shallot | Echalote | Sjalot |
| Spinach | Epinards | Spinazie |
| Tomato | Tomate | Tomaat |
| Turnip | Navet | Knol |
| Zucchini/Courgette | Courgette | Courgette |
| | | |
| --- | --- | --- |
| Fish & seafood | Poisson & Fruits de mer | Vis & Schelpdieren |
---
| | | |
| --- | --- | --- |
| Clams | Palourdes | Tapijtschelp |
| Cod fish | Cabillaud | Kabeljauw |
| (salted) cod fish | Morue | (gezouten) kabeljauw |
| Herring | Hareng | Haring |
| Oysters | Huitres | Oesters |
| Salmon | Saumon | Zalm |
| Scallop | Coquille St Jacques | Jacobschelp |
| Squid | Calmar/calamar | Inktvis/Calamaris |
| Tuna | Thon | Tonijn |
| Winkles | Bigorneaux | Alikruk |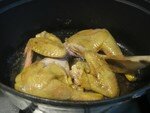 | | | |
| --- | --- | --- |
| Meat & Poultry | Viandes & Volailles | Vlees & gevogelte |
---
| | | |
| --- | --- | --- |
| Beef | Boeuf | Rund |
| Chicken | Poulet | Kip |
| Duck | Canard | Eend |
| Game | Gibier | Wild |
| Guinea fowl | Pintade | Parelhoen |
| Lamb | Agneau | Lam |
| Pork | Porc | Varken |
| Rabbit | Lapin | Konijn |
| Turkey | Dinde | Kalkoen |
| Veal | Veau | Kalf |
| | | |
| Chicken filet/breast | Blanc de poulet | Kipfilet |
| (Smoked) Duck breast | Magret de Canard (fume) | (Gerookte) Eendeborstfilet |
| Duck/Goose liver | Foie Gras de canard/d'oie | Eende-/Ganze- lever |
| Fillet/Tenderloin | Filet | Haas |
| Shoulder | Epaule | Schouder |
| | | |
| | | |
| --- | --- | --- |
| Dairy | Produits laitiers | Melk produkten |
---
| | | |
| --- | --- | --- |
| Butter | Beurre | Boter |
| Buttermilk | Petit lait / lait ribot | Karnemelk |
| Cheese | Fromage | Kaas |
| Cream | Crème | Room |
| Creamcheese | Fromage frais | – |
| – | Fromage blanc | Kwark |
| Milk | Lait | Melk |
| Whipped cream | Crème chantilly | Slagroom |
| Yogurt | Yoghurt/Yaourt | Yogurt |
| | | |
| low-fat | 0% de matieres grasses | mager |
| whole | entier/entière | vol |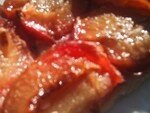 | | | |
| --- | --- | --- |
| Fruits and nuts | Fruits et noix | Vruchten en noten |
---
| | | |
| --- | --- | --- |
| Almond | Amande | Amandel |
| Apple | Pomme | Appel |
| Chestnut | Marron/chataigne | Kastanje |
| Fig | Figue | Vijg |
| Grapes | Raisins | Druiven |
| Hazelnut | Noisette | Hazelnoot |
| Lemon | Citron | Citroen |
| Lime | Citron vert | Limoen |
| Melon | Melon | Meloen |
| Pear | Poire | Peer |
| Plum | Prune | Pruim |
| Prune | Pruneau | Pruim |
| Raspberry | Framboise | Framboos |
| Raisins | Raisins secs | Rozijnen/krenten |
| Strawberry | Fraise | Aardbei |
| Walnut | Noix | Walnoot |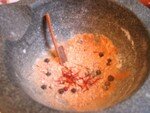 | | | |
| --- | --- | --- |
| Herbs & spices | Herbes & epices | Kruiden & spijs |
---
| | | |
| --- | --- | --- |
| Aniseed | Anis | Anijs |
| Basil | Basilic | Basilicum |
| Cardamom | Cardamone | Kardemom |
| Chili pepper | Piment | Chili |
| Chives | Ciboulette | Bieslook |
| Cinnamon | Cannelle | Kaneel |
| Cloves | Clou de girofle | Kruidnagel |
| Coriander/cilantro | Coriandre | Koriander |
| Cum(m)in | Cumin | komijn |
| Dill | Aneth | Dille |
| Ginger | Gingembre | Gember |
| Juniper berries | Baies de genièvre | Jeneverbessen |
| Laurel (bay leaves) | Laurier | Laurier |
| Lavender | Lavande | Lavendel |
| Lemongrass | Citronelle | Lemongras/Kafir |
| Mustard | Moutarde | Mosterd |
| Parsley | Persil | Petersilie |
| Pepper | Poivre | Pepper |
| Sage | Sauge | Salie |
| Vanilla pod | gousse de Vanille | Vanille dop |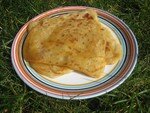 | | | |
| --- | --- | --- |
| Bread and pastry | Pain et patisserie | Brood en Gebak |
---
| | | |
| --- | --- | --- |
| Buckwheat | Sarrazin | Boekweit |
| Dough | Pate | Deeg |
| Filo pastry | Feuilles de filo/brick | Filo deeg |
| Gelatin(e) | Gelatine | Gelatine |
| Flaky/Puff pastry | Pate feuilletee | Bladerdeeg |
| Honeycake | Pain d'epices | Ontbijtkoek |
| Pancake | Crèpe | Pannenkoek |
| Shortcrust | Pate sablée | Zanddeeg |
| Tart | Tarte | Taart |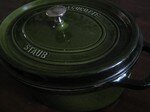 Specific cooking vocabulary

Vocabulaire culinaire Specifique

Specifiek
kookvocabulair
---
| | | |
| --- | --- | --- |
| bake | cuire au four | baken |
| to bake blind | cuire a blanc | – |
| to blanch | blanchir | blancheren |
| to blend | mixer (au mixeur) | – |
| candied | confit(e) | gekonfijt |
| to chop | emincer | – |
| Food processor | Mixeur | Keuken machine |
| Handful | Poignee | – |
| to mince | hacher | – |
| to mix/stir/toss | melanger | mengen/roeren |
| Mold | moule | – |
| Pinch | Pincee | Snuifje |
| to sear/brown | saisir | – |
| Seeds | Pepins | Pit |
| Sprig | Brin/branche | – |
| to thaw | décongeler | ontdooien |
§ One Response to Cooxicon